Calvary Watch Parties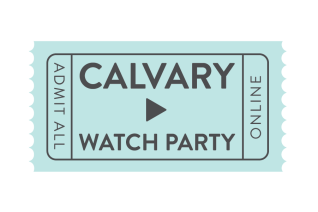 We are committed to connecting people to the hope of Christ-and to each other. While Covid-19 restricts our ability to meet for large, in-person worship, we believe there are safe and meaningful ways you can worship together with a small group of people. Host a Calvary Watch Party today!
What's a Watch Party?
A Watch Party is an opportunity for a small group of people to meet in-person to experience online worship together, build community, and encourage each other to grow in faith.
Who should I invite?
You could invite a few neighbors, extended family members, your Connect Group or Women's Circle. Maybe it's your golf league or a couple of co-workers. Think about the people you are comfortable being in-person with during this time (see safety tips below). And then think-Who have I always wanted to invite to church?
When would we meet?
Whether it's Sunday morning during Calvary's 9am livestream or Sunday evening on YouTube, Watch Parties can happen any time. Worship is available on demand [hyperlink to YouTube], so use technology to your advantage!
Some Calvary Safety Tips:
Consider meeting outdoors. Maybe you'll set up a TV in the garage and ask everyone to bring a lawn chair. Or what about bringing an iPad on the pontoon? We encourage you to get creative, while staying safe.

In Minnesota, it is recommended that indoor gatherings are kept to 10 people, where social distancing can also be practiced.

We suggest that host homes take special precautions to clean bathrooms and provide a way for them to be sanitized between uses.

We also recommend that care be taken when considering shared food. Prepackaged snacks are a good option, or ask everyone to bring their own snacks.

We would encourage the use of masks when social distancing is more challenging.
With so many uncertainties in life right now, there's one thing we know-we need a community of faith. Host a Calvary Watch Party to create that community, right where you are!
Contact Katie Dahl with questions or to share your Calvary Watch Party story!