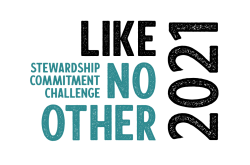 WHY AN APPEAL?
It has been a year like no other.
Covid turned our lives upside down, but here's what I love about our church: Amid trying times, you recognize that in order to reach people no other church is, we need to be a church like no other. That's why, even amid all we've faced this year, Calvary is experiencing amazing growth! Prior to the Covid-19 pandemic, in-person worship attendance was up 19% since 2014. Since transitioning to our online life together, we've seen participation explode. 1000's view worship and the Daily Dose every week. People from California to Garfield, Colorado to the Iron Range are tuning in weekly. And, we are serving our community in remarkable ways making masks, packing and delivering food, expanding our preschool ministry, our Kids Summer Experience, and so much more.
God has blessed Calvary with an exciting vision for the future that is like no other. We are more excited about and committed to our mission of leading all people to a lifelong faith in Jesus Christ than ever before. Our staff continues to be incredibly fiscally responsible, but living out the vision God has for our church calls each of us to make an investment. Your commitment to the General Fund will allow us to boldly respond to God's call to be a church like no other in 2021!

WHERE ARE WE GOING?
We will be a church for our community like never before.
In a year like no other, Calvary responded to our community's needs like no other. Calvary coordinated the collection of 20,000 masks, delivered Backpack Attack food weekly to 180 local families, supported our teachers at Discovery Middle School to equip their classrooms, and continues to engage as a leader in the community anti-racism movement.
We will invest in kid, student and family ministry like never before.
Due to the challenges of Covid, Calvary is reinventing the way we do ministry. We are delivering experiences to help families engage even when we can't meet in person, like our Calvary Summer Experience. We will serve over 60 families in our community by opening up Calvary's new and improved Preschool. Increasing our investment in kid and student ministry will ensure we lead our students to a lifelong faith in Christ.
We will grow our online church experience like never before.
Online worship has exponentially expanded Calvary's reach. People from all parts of Minnesota and states all over the U.S. now join Calvary regularly for worship. We offer daily messages through the Daily Dose, and both live and on-demand worship services for our Sunday experience as well as through television and radio. We want to expand our ministries to raise the quality of these experiences and, most importantly, serve those who may never enter our church building, but hear a word of hope through our online ministry.
We will help other churches grow like never before.
Our mission is to lead all people to a lifelong faith in Jesus Christ. We all win when our mission is fulfilled, wherever that occurs. This year Calvary entered a partnership with West Moe Lutheran Church in Brandon, MN to provide leadership. This is a first of its kind partnership in our synod, and allows a smaller church to thrive. It also provides a seminary student an opportunity to lead, learn and grow under Calvary's staff leadership.
We will get connected and stay connected like never before.
Covid has made connecting hard and left many isolated. During this same time, though, we have actually grown the number of Connect Groups in our church! We want to invest in resources that would allow us to connect like never before. From group and training resources to technology to recruiting leaders, we will grow our Connect Group ministry so all know they have a place.

HOW DO I PARTICIPATE?
Prayerfully consider the amount you would like to contribute to the General Fund for 2021. Your ongoing support to the General Fund allows Calvary to continue its ministries and operations.
Remember, gifts of all sizes are welcome and needed. Please consider giving your best gift. Combined with our entire Calvary community's generosity, your gift will have tremendous impact.
Consider automated giving for your gifts. Automatic giving allows you to remain faithful to your commitment even during unique times when we don't gather for worship. If you'd like to set up a recurring or one-time donation, please visit www.calvaryalex.org/giving. You can change your contribution at any time.
Plan to make your gifts in the ways that work best for you. Below are ideas for asset-based giving:

Appreciated Assets
Stocks or Bonds
Cash Value in Life Insurance
IRA Rollover
Gift Annuity
Charitable Trusts
Donating Land
Including Calvary in your will
Questions? If you have questions on giving options, please contact the church office at 320-763-5178 and speak with Katie Rentschler, Business Administrator.